Featured products
Removals Packaging Materials
Packing Materials
Best for Removals
Packaging Materials for Removals
The Packaging Materials for Removals (PMR) Shop was designed by the owners of the international mover VanOne. The primary objective of our shop is to address the needs of families and individuals who are planning to move. Our customers often find it easier to organise the logistics of their move than to source the adequate packaging materials for it. The lack of quality uniformity in the packaging materials available on the market makes it difficult for people to choose materials which are right for their move.
Choosing the right quality of packaging materials for removals is very important. If you try to make savings by using inferior quality packing materials, you run the risk of your belongings becoming damaged. This will turn out much more expensive in the long run! Get better value with good quality packaging materials for removals by the PMR.
Using our many years of experience in the domestic removals industry, we carefully select the right packaging materials for removals. You can rest assured knowing that what you order from us will provide maximum security to all the precious items you are planning to move, both during transportation and whilst in storage.
Packaging Materials for Removals are different from the ordinary packaging materials. The boxes for removals, for example, are usually twice as thick as ordinary cardboard boxes. We call these products double-walled boxes, and we offer them on this website in three different sizes: small, medium and large.
To help our customers to protect their furniture, we have listed thick removal blankets and plastic shrink wrap in the products section of this Packaging Materials for Removals Shop. This is because the professional removals firms use these products, together with corrugated cardboard, to wrap and prepare the furniture items for removals.
Unlike some of our competitors, we don't put a premium price tag on our products just because they are designed to address specific needs of our clients (i.e to provide maximum security for goods during removals). Low price, high quality of packaging materials and fast delivery are the three main promises we make to our customers.
At the Packaging Materials for Removals Shop we realise that in order to provide you with an outstanding experience, in addition to the high quality and low price of our packaging materials, we must also offer fast deliveries. Customers in the UK therefore usually receive their purchases no later than 48 hours after their purchase is completed. Our Continental European customers receive their packaging approximately 72 hours from the time they click 'pay' on this website.
Latest from the blog
Removals Packaging Materials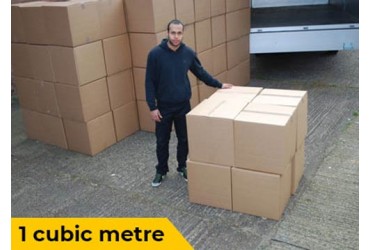 Dec 19, 2019
42590 Viewed
The above picture shows you the visualisation of 1 cubic meter. Eight of this Double Walled Box...
read more